Piquant Cheese Salad (No Mayo or Pasta)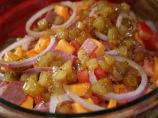 Photo by ~Nimz~
Prep Time: 20 mins
Total Time: 20 mins
Servings: 6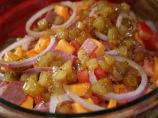 Photo by ~Nimz~
About This Recipe
"Here's another recipe from THE BEST OF COOKING by Arne Kruger & Annette Wolter, this time a great make-ahead summer salad full of color, flavor & textural crunch that is ideal for patio grill party, picnic, camping & potluck occasions. The recipe suggests a mildly-flavored & not very hard cheddar cheese, but allows for subs such as Gouda or Monterey Jack. (Please see note that follows the prep) *Enjoy*"
Ingredients
6 ounces cheddar cheese ( cut in small cubes)

2 small onions ( sliced in rings, or 3-4 boiling size onions sliced in rings)

6 ounces salami ( diced, may sub pepperoni)

4 small tomatoes ( seeded & diced)

6 sweet gherkins ( cut in 1/4-in slices)

3 tablespoons brown sugar

2 tablespoons pineapple juice

3 drops Tabasco sauce

1 teaspoon black pepper

4 tablespoons olive oil

4 ounces pineapple chunks ( diced)

fresh chives ( chopped, garnish) (optional)
Directions
In a serving bowl, mix cubed cheese, onion rings, diced salami, diced tomato & sliced gherkins.

In a separate bowl, combine brown sugar, pineapple juice, Tabasco, pepper, olive oil & diced pineapple chunks. (I use a glass jar w/a tight lid & just shake to combine).

Just b4 serving, toss salad in dressing & serve garnished w/chopped chives as desired.

NOTE: To make ahead & avoid a mushy cheese effect, follow same prep except DO NOT include diced cheese in the mix of Step 1. Store the cheese ready to use in a sandwich bag or refrigerator container & combine w/salad ingredients at the same time the dressing is added just before serving.