Indonesian Chicken, Peanut Butter Sauce (Slow Cooker)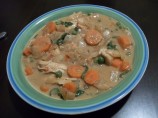 Photo by rpgaymer
Prep Time: 4 hrs
Total Time: 4 hrs 25 mins
Servings: 4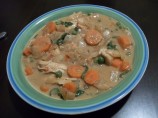 Photo by rpgaymer
About This Recipe
"This is very yummy, and the smells while it is cooking are so inviting."
Ingredients
8 skinless chicken thighs ( about 1 1/2 lb)

5 carrots, sliced

2 onions, chopped

2 garlic cloves, finely chopped

1 1/4 cups water

3/4 cup smooth peanut butter

1/4 cup soy sauce ( preferably Kikkoman, or any real one, not VH)

1/2 teaspoon ground ginger

1/4 teaspoon chili flakes

1 cup frozen peas ( I personally don't put the peas in)

1 teaspoon white wine vinegar

some chopped chives ( for garnish)

some chopped peanuts ( for garnish)
Directions
Place the chicken, carrots, onions and garlic in the slow cooker. in a small bowl, combine water, peanut butter, soy sauce, ginger and chili flakes. Pour on top of chicken. Cover and cook on low for 4 to 6 hours (or high for 2 hours), or until chicken is cooked and veggies are tender.

Add peas and wine vinegar. Cover and continue cooking on low for 10 more minutes**. Serve with some chives and peanuts on top.

**Personally, I don't continue cooking. I just add the white wine vinegar, mix and serve.