Chicken, Mango & Jicama Salad W Tequila-Lime Vinaigrette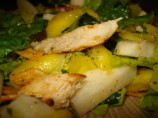 Photo by MeliBug
Prep Time: 40 mins
Total Time: 2 hrs 40 mins
Servings: 6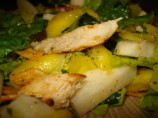 Photo by MeliBug
About This Recipe
"That name is a mouthful, I know! But a tasty mouthful. If you've never tried jicama, here is your chance! This a bit time consuming but you can easily make the dressing ahead of time. You can also do the tortilla strips ahead and store in a airtight container, or omit them altogether and use store-bought tortilla chips."
Ingredients
vinaigrette

1/4 cup chopped fresh cilantro

1/4 cup orange juice

2 tablespoons lime juice

1 -2 tablespoon tequila

2 tablespoons extra virgin olive oil

1 -2 tablespoon honey

1/4 teaspoon black pepper

1/8 teaspoon ground red pepper

corn tortilla strips

4 (6 inch) corn tortillas, cut into 1/2-inch wide strips

1/2 teaspoon ground cumin

1/4 teaspoon salt

1/4 teaspoon paprika

1 dash ground red pepper

grilled chicken

1/4 cup orange juice

1/4 cup low sodium soy sauce

2 teaspoons minced garlic

3/4 teaspoon chili powder

6 boneless skinless chicken breast halves

salad

1 small jicama, peeled and cut into thin strips

1 medium mango, peeled and diced

1 (6 ounce) bags mixed salad greens
Directions
For vinaigrette:.

Combine all ingredients and whisk until thoroughly combined. Chill until ready to use.

For Tortilla strips:.

Place strips in large bowl and spray with cooking spray, tossing to coat.

Combine seasonings and sprinkle over strips, tossing to coat.

Fry in oil until lightly browned or spread over cookie sheet and bake at 350 for 8 minutes. They will get crispy as they cool.

For Chicken:.

Combine marinade ingredients in large zip-loc bag.

Add chicken and marinate at least 2 hrs, turning bag occasionally.

Preheat grill.

Remove chicken from bag and discard marinade.

Sprinkle chicken with 1/2 tsp salt.

Grill 5 minutes on each side or until done.

Cut meat into 1/2" slices.

For Salad:.

Combine jicama, mango and greens in large bowl.

Pour vinaigrette over salad and toss to coat.

Divide into servings and top with chicken and tortilla strips.

Whew! Sit down and enjoy it all with a frozen margarita that someone else fixed!