Vegan Breakfast Sandwiches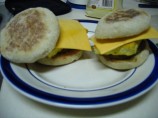 Photo by tendollarwine
Prep Time: 30 mins
Total Time: 45 mins
Servings: 6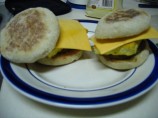 Photo by tendollarwine
About This Recipe
"I came up with this one morning and it's become one of my favorite breakfast foods. What's best is making this on a Sunday, having one sandwich, then taking the leftovers to work to reheat in the microwave every morning."
Ingredients
1 lb firm tofu, drained and sliced into 6 even slabs

6 slices vegan sausage patties, pressed thin

1/2 cup soy flour

1/2 teaspoon garlic powder

1/4 teaspoon turmeric

1/4 teaspoon sea salt

1/4 teaspoon black pepper

4 tablespoons vegetable oil

vegan margarine

6 vegan American cheese ( Tofutti singles)

6 English muffins, toasted
Directions
Heat 1 tbsp of oil in a skillet over medium heat. Fry the sausage on both sides until browned. Place on a plate with paper towels to drain and keep the plate in a warmed oven.

On another plate, combine the soy flour, garlic powder, turmeric, salt and pepper. Dredge the drained tofu in the mixture and make sure all sides are evenly coated.

Heat the remaining oil in the pan and in 2 batches, fry the coated tofu until browned, about 3 minutes on each side. When they are done, add to the plate of sausages in the oven to drain excess oil and to keep warm.

Toast and butter the English muffins. Assemble the sandwiches with the sausage on the bottom, tofu in the middle, and slice of soy cheese on the top.