Pineapple Upside Down Cake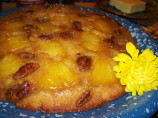 Photo by Elly in Canada
Prep Time: 20 mins
Total Time: 1 hr
Servings: 8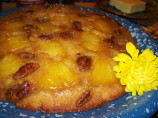 Photo by Elly in Canada
About This Recipe
"This is a really delicious recipe. I adapted this from the Joy of Cooking, changing a few things here and there, like reducing the butter and adding ginger."
Ingredients
1/2 cup brown sugar

3 tablespoons butter

1 fresh pineapple, Peeled, Cored & Sliced

1/4 teaspoon ground ginger

2 tablespoons pecans, Chopped

1 cup flour

1 teaspoon baking powder

4 eggs, Separated

1 cup sugar

1 teaspoon vanilla

2 teaspoons rum
Directions
Preheat oven to 350°F.

Place brown sugar and 2 tablespoons of butter in the bottom of a 9- or 10-inch casserole dish. Place in the oven, allowing mixture to melt. Take out of the oven and stir to incorporate both ingredients.

Lie pineapple slices in one layer along the bottom, going up the sides of the dish as well. Sprinkle chopped pecans in the center holes and spaces left open by the pineapple slices. Sprinkle with ginger.

In a bowl, sift together flour and baking powder. Sift sugar into another bowl.

In a separate bowl, beat egg yolks, vanilla and 1 tablespoon melted butter. In yet another bowl, beat egg whites until stiff but not dry.

Gently fold sugar into the egg whites, one tablespoon at a time. Then fold in the yolk mixture, and then the flour mixture 1/4 cup at a time.

Pour the batter over the pineapple slices and bake for 30-45 minutes. Test center with a toothpic to be sure it is done.

Immediately after taking out of the oven, turn over onto a serving platter, and wait a moment to allow the brown sugar syrup to run over the entire cake.

Sprinkle the top of the cake with rum or brandy.

You can serve this with whipped cream or dessert sauce, but it is great by itself. Enjoy!