Fiber Studded Chicken Strips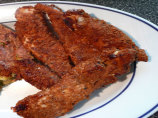 Photo by Outta Here
Prep Time: 20 mins
Total Time: 30 mins
Serves: 1, Yield: 5 pieces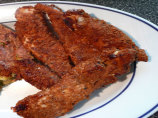 Photo by Outta Here
About This Recipe
"I got this recipe from a hungry girl mailing.She said "Woohoo -- it's yet another fake-fried swap from your pal HG. Skeptics surrender; buy a box of Fiber One and blend it up, already! Then fool the family, dupe your date, and more importantly, trick your OWN taste buds!" check her out at: www.hungry-girl.com"
Ingredients
6 ounces boneless skinless chicken breasts ( raw)

1/2 cup Fiber One cereal

1/4 cup Egg Beaters egg substitute, Original

1/4 teaspoon lawry's garlic salt

pepper ( to taste)
Directions
Preheat oven to 375°F.

Cut chicken breast lengthwise into 5 strips; set aside.

Using a blender or food processor, grind Fiber One cereal to a breadcrumb-like consistency. Add garlic salt and pepper to crumbs.

Place crumbs in one small dish and Egg Beaters in another. Next, coat raw chicken strips with Egg Beaters and then with crumb mixture.

Place strips on a baking pan sprayed with nonstick spray.

Spray a light mist of nonstick spray on top of strips and place in oven.

Cook for 10 minutes, and then turn strips over. Add another light mist of nonstick spray and cook for an additional 8 - 10 minutes (until chicken is fully cooked and Fiber One looks crispy).

Enjoy!