Fast and Easy Caramel Popcorn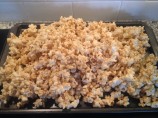 Photo by Natalie L.
Prep Time: 0 mins
Total Time: 10 mins
Servings: 8-10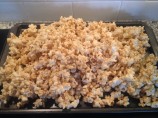 Photo by Natalie L.
About This Recipe
"This recipe is sure to be a hit with friends and family. It's super easy and there's not much of a mess to clean up afterwards. My kids love watching the mixture foam after adding the baking soda. We all start eating it right away but I do prefer it after it has had time to cool. It's a real treasure to create! P.S. You might want to break it up with your hands as it starts to cool."
Directions
Place popped corn in brown bag.

Melt margarine, brown sugar and syrup in microwave on high for 5 min stirring once every 1/2 minute

Stir in baking soda, mixture will foam!

Pour over popcorn in bag and shake well.

Place in microwave on high for 1 inches Shake again, heat for one more minute.

Shake, pour into bowl to cool and then enjoy!