Lemon Cream Shrimp and Pasta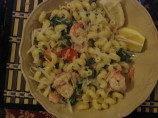 Photo by Jamilahs_Kitchen
Prep Time: 10 mins
Total Time: 40 mins
Servings: 6-8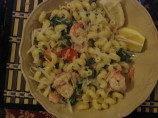 Photo by Jamilahs_Kitchen
About This Recipe
"Lemony cream sauce with pasta, vegetables and shrimp. If you love lemons, this sauce is to die for. I cut this recipe in half for 2 and it worked out just fine with a little leftover."
Ingredients
1 tablespoon olive oil

1 tablespoon garlic

2 cups heavy cream

2 lemons, zest of

2 lemons, juice of

2 teaspoons salt

1 teaspoon pepper

1 cup broccoli

1 cup halved cherry tomatoes

1/2 cup chopped fresh arugula

cooked shrimp ( quantity desired by cook)

parmigiano-reggiano cheese ( to garnish)

1 lb of your favorite macaroni ( I used Cellentani)
Directions
Bring water to boil with salt.

Add broccoli for 3 minutes to cook. Remove and blanch in cold water.

Add pasta to water and cook to desired taste.

Meanwhile, sauté 1 TBS garlic (I probably used 2 TBS I like a lot of garlic) in olive oil, cooking 1 minute on low heat.

Add 2 cups heavy cream and reduce over medium heat.

Add juice of 2 lemons and zest of 2 lemons along with 2 TSP salt and 1 TSP pepper.

Allow to reduce by half 10-12 minutes.

When sauce is close to ready, add cooked shrimp to sauce just to warm the shrimp.

Drain pasta.

Toss in cherry tomatoes, broccoli, arugula and the Lemon Cream Sauce.

Garnish with fresh Parmiganio Reggiano.

Serve immediately.