Billy's Red, White, and Bleu Pasta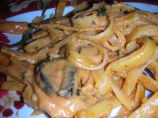 Photo by JackieOhNo!
Prep Time: 30 mins
Total Time: 30 mins
Servings: 3-4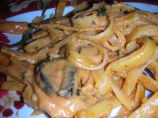 Photo by JackieOhNo!
About This Recipe
"This pasta is very rich, delicious, and filling! This is another recipe my boyfriend came up with while messing around in the kitchen one day and we both love it now."
Ingredients
1 tablespoon olive oil

2 tablespoons butter

1/2 large onion, sliced in very thin wedges

3/4 cup black olives, sliced in half

1 teaspoon minced garlic

1 tablespoon capers

3 tablespoons flour

1 pint half-and-half cream

4 ounces crumbled blue cheese (french or danish) or 4 ounces gorgonzola

1 (6 ounce) cans tomato paste

salt and pepper

1 pinch red pepper flakes

1 pinch basil

1 pinch parsley

8 ounces dry fettuccine ( or your favorite pasta)
Directions
Cook pasta according to package directions.

Melt butter and olive oil over medium heat, then add onions, garlic, and capers.

Break up the onions with a spoon as you saute them and cook until softened and slightly browned.

Sprinkle the flour over the top and stir constantly for 1 minute.

Slowly add the half & half while stirring to combine.

Let it come to a boil, stirring occasionally.

Turn the heat to low and add the cheese, stirring until completely melted.

Add the tomato paste and olives and stir to combine.

Add red pepper flakes, basil, and parsley.

Add salt and pepper to taste.

Pour the sauce over the pasta and toss to coat.

Serve with parmesan cheese if desired and enjoy!