Tangier Island - Baked Hot Crab, a La Maryland - Longmeadow Farm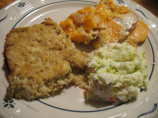 Photo by AcadiaTwo
Prep Time: 10 mins
Total Time: 40 mins
Servings: 6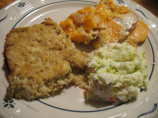 Photo by AcadiaTwo
About This Recipe
"This recipe comes from Tangier Island, in Southern Maryland/Virginia, a serene little island at the mouth of the Chesapeake Bay, actually part of Virginia. When you arrive on the dock at Tangier, you are received on the dock to wonder about this fishing/crabing/oystering town. Along the walkways, and small streets, women type out their recipes, handed down from generation to generation and place them on a plywood board in plastic bags. I picked this recipe in a little packet, wrapped carefully in plastic wrap, typed on an old typewriter and have loved this little recipe ever since. The cost for these simple 6 hand-typed recipes were $1.00 and was self serve. This recipe is a part of a culture that has stood the test of time, and the folks that live within this island remain steadfast in tradition. Basically, Tangier Island represents what should be a prosperous, but simple way of living, bringing oysters and crabs to the people of Maryland and Virginia. This recipe speaks of this island when life took a breath and enjoyed the riches, and bountiful crustations of our beautiful Chesapeake Bay. When I prepare this recipe, I will always be reminded of this wonderful place and a wonderful time. Serve on crackers, or crusty warmed bread. *Note* this recipe is not a *dip*. As a previous reviewer noted, this compares more to baked crab, a la Maryland. In Maryland we serve baked crab/crab cake sometimes on bread/crackers. I hope you enjoy this simple but historical taste of Maryland, and if not, then send it over here to Longmeadow Farm...we will be glad to devour it with gusto!! Really, enjoy."
Ingredients
1 lb crabmeat

1 medium onion, chopped finely

1/4 cup butter, melted ( original calls for 1/2 block)

3/4 cup breadcrumbs

1 tablespoon mustard ( I use dry mustard)

2 tablespoons mayonnaise

1 teaspoon Worcestershire sauce

1 teaspoon texas pete ( or Tabasco)

1 egg

1 teaspoon Old Bay Seasoning

1/4 teaspoon pepper

1 pinch garlic powder
Directions
Preheat oven 350° and grease a casserole dish with cooking spray.

Mix all ingredients together lightly, and put in greased casserole dish.

Bake at 1/2 hour or until bubbly, garnishing with fresh parsley if desired.