Vegetarian Burgers or Loaf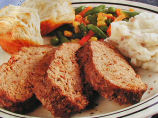 Photo by Chef #457852 - bggio
Prep Time: 30 mins
Total Time: 2 hrs
Servings: 8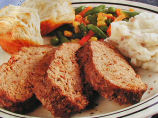 Photo by Chef #457852 - bggio
About This Recipe
"This is a great alternative to meatloaf or burgers. You may need to play with the volume of bread crumb/oat/wheat germ to get desired consistency for forming into burgers. Only thing to remember is this timely to make from dried beans. It tastes great and I am not vegetarian."
Ingredients
1 onion, finely chopped

3 garlic cloves, finely minced

2 medium carrots

1/4 cup dry chickpeas

1/4 cup dry green lentils

1/4 cup dried red kidney beans

1/4 cup mushroom, chopped (optional)

1 small summer squash, shredded

2 teaspoons olive oil

1/2 cup rolled oats

1/4 cup wheat germ

1/4 cup brown rice

1/2 cup breadcrumbs

1/4 cup fresh cilantro or 1/4 cup fresh parsley, chopped

2 eggs, slightly beaten dependent on mixture thickness

salt & freshly ground black pepper

2 tablespoons soy sauce

all-purpose flour, for burger not needed for loaf
Directions
In a skillet heat olive oil over medium heat; add onion and garlic and cook until onion has softened, about 2 minutes. Add squash carrots and toss until tender. Boil rice until tender.

Add rice and chick pea, lentil mushroom to the skillet. Stir and cook for 2 minutes. Remove pan from heat.

Blend lightly in a food processor add cilantro soy sauce and egg.

Add wheat germ, bread crumb and rolled oats, salt and pepper pulse in blender and refrigerate for 1 hour; or blend well by hand.

Put a little flour on a large plate. Make desired size round diameter patties with cooled veggie mixture. Dip both sides of patties in the flour. Refrigerate patties for 15 to 20 minutes.

Place patties on a greased broiling pan. Broil for 5 minutes on each side. Or lightly fry in a pan.

Serve on a toasted hamburger bun with all the fixings, if desired.

Adjust amount of bread – oats – wheat germ to your tastes or for desired consistency for either burger or loaf.

I like to add an additional 2 cloves of garlic fresh after the cooking while blending the bread crumbs.

Beans, lentil and chick peas can be of the canned variety this cuts down the preparation time but dried taste better. You need to soak and boil for a while 2-3 hours if you use dried beans boil in order chick peas ½ hour later add red beans and in the last half hour add the lentil.

For the loaf cook at 350 degrees for 1 hour and 15 minutes after the first ½ hour of cooking you add a small can of stewed tomatoes on top of the loaf. A ½ teaspoon of hot pepper flakes blended on in the stewed tomatoes if you like a little spice.