Bubba Bean's This and That Casserole Bake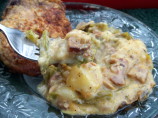 Photo by Marsha D.
Prep Time: 20 mins
Total Time: 50 mins
Servings: 4-6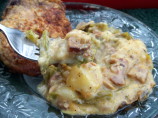 Photo by Marsha D.
About This Recipe
"This is a recipe of my own. I needed to use up things I had in the ref. It's a little time consuming but worth the effort. I used Johnsville Italian Mild Sausage Links. I make my own cream of mushroom soup which I have included in this recipe.By the way, my husband nickname me bubba bean and thats where the name of my recipe came from.:)"
Ingredients
2 johnsville mild sausage links, grilled and cooked

2 cups fresh green beans, split in half and blanched

2 cups boiled potatoes, drained and cooled slightly

1 chicken bouillon cube

1 cup fresh sliced mushrooms

1/4 cup green pepper, diced

1/3 cup sweet onion, diced

1 cup shredded cheddar cheese

1 cup monterey jack cheese, shredded

1/2 cup French's French fried onions

1 teaspoon salt

2 teaspoons black pepper

1 dash cayenne pepper

1 dash white pepper

Ingredients for Cream of Mushroom soup

2 tablespoons margarine

2 tablespoons diced onions

1 cup diced fresh mushrooms

3 tablespoons self rising flour

1 chicken bouillon cube

1 cup boiling water

1/2 cup whipping milk

1 teaspoon black pepper

1 dash cayenne pepper
Directions
Preheat oven to 350°F.

Grill the Italian sausage and sliced in half and sliced again to bite size pieces.

Slice green beans length wise in half and place in boiling salted water and blanch for 10 minutes. Drain well.

Dice up potatoes and boil in water with 1 chicken bouillon cube, salt and pepper too, drain well.

To make the cream of mushroom soup:.

Boil 1 cup water in microwave and add 1 chicken bouillon cube. Stir to dissolve cube.

In a medium sauce pan over medium heat, add 2Tbs. margarine and let melt. Add 2Tbs. diced onions and sauté 2 minutes. Add 1c. diced fresh mushrooms and sauté another 2 minutes. Add 3 Tbs. self rising flour and blend together.

Add chicken bouillon broth and stir well.

Add 1/2 cup whipping cream and stir well.

Add black pepper, and a dash of cayenne pepper and stir till soup thickens.

NOTE: you may want to add salt and more black pepper to taste and more whipping cream if to thick.Or if not thick enough add another Tbs. of flour.

In a large bowl mix together diced up Italian sausage, green beans, potatoes, 1 cup fresh mushrooms, green peppers, onion, cheddar and Monterey jack cheese, French's fried onions, and the cream of mushroom soup. Add rest of seasonings.

Place into a 2 quart baking dish.

NOTE: you can add more cheddar cheese and Monterey jack cheese on top of casserole before baking.

Bake casserole in oven for 30 minutes.