Bean & Cheese Burritos W/ Tex-Mex Chili Sauce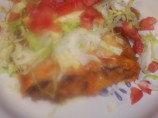 Photo by Mims & Squims
Prep Time: 10 mins
Total Time: 40 mins
Serves: 2-4, Yield: 2.0 burritos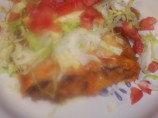 Photo by Mims & Squims
About This Recipe
"I'm addicted to Tex Mex, and it's slowly but surely clogging my arteries. I'm told these are called "wet burritos," although I have yet to find a Tex Mex restaurant that calls them that. Anyhow, here's my lower in fat version of a dish I simply can't live without. You can use pre-prepared beans and rice or give it your own flair by making them from scratch. Add or omit ingredients as you like to create your own perfect burrito!"
Ingredients
Sauce

3 tablespoons canola oil

2 tablespoons all-purpose flour

2 tablespoons chili powder

1 teaspoon ground cumin

1 (14 ounce) cans fat-free chicken broth

1 (8 ounce) cans tomato sauce

1 teaspoon salt

1/4 teaspoon garlic powder

Burritos

1 1/2 cups fat-free refried beans

1 1/2 cups Spanish rice

1 1/4 cups low-fat cheddar cheese (separated) or 1 1/4 cups Mexican blend cheese ( separated)

2 large flour tortillas ( 12-inch or larger)

Toppings

diced onion (optional)

shredded lettuce (optional)

diced tomatoes (optional)

canned jalapeno, sliced (optional)

low-fat sour cream (optional)

diced avocado (optional)
Directions
Preheat oven to 350F.

Prepare sauce: Heat canola oil in saucepan; stir in flour and chili powder to form thick paste; cook 30-60 seconds.

Add chili powder, cumin, broth, tomato sauce, salt, & garlic powder. Bring to a boil, reduce heat, & simmer 8-10 minutes. Set aside.

Assemble burritos: Lay out one tortilla. Spoon 3/4 c refried beans, 3/4 c spanish rice, and 1/2 c cheese down center of tortilla.

To roll , fold one side over filling, parallel to filling. Fold up bottom & top then fold over other side to make a wide burrito.

Place seam side down in large baking dish. Repeat steps 3 & 4 for second burrito.

Pour sauce over burritos and top with 1/4 c cheese.

Bake 25-30 minutes.

Remove from oven and pile on the desired toppings.

Burritos can be cut in half and serve 4 people, or can be served whole to two *really* hungry people.

And don't forget the forks!