Swiss Chard With Tomato and Bacon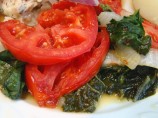 Photo by Derf
Prep Time: 10 mins
Total Time: 40 mins
Servings: 3-4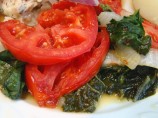 Photo by Derf
About This Recipe
"A good old New England tradition. Skillet swiss chard sautéed with bacon and tomato. A hearty side dish to serve with your favorite grilled meat. Bacon or salt pork can be used or omitted to make a vegetarian dish."
Ingredients
1 bunch swiss chard, washed and rinsed

2 -3 slices bacon, rough chopped

1 onion, sliced

3 -4 garlic cloves, chopped

3 -4 tablespoons olive oil

red pepper flakes

2 ripe tomatoes, sliced

4 ounces chicken stock

salt and pepper

balsamic vinegar (optional)
Directions
Wash and rinse chard.

Rough chop chard to 2-3 inches.

In a large skillet, add olive oil and chopped bacon.

Cook bacon till fat has rendered and crisp.

Add chard, onion and garlic. Cover.

Cook till wilted.

Add salt and red pepper flakes.

Uncover and as water steams off, add chicken stock, adding more as needed so pan does not burn.

Lower heat to medium low. Continue to simmer until chard stalks and onion are tender.

Add slices of tomato. Cook for another 3-5 minutes.

Dress with balsamic vinegar to taste.

Enjoy!