Parent and Child Domburi (Oyako Domburi)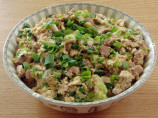 Photo by CraftScout
Prep Time: 10 mins
Total Time: 25 mins
Servings: 6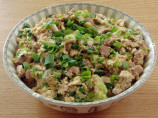 Photo by CraftScout
About This Recipe
"Domburi means and earthenware bowl, but the name also applies to the food served in it, generally rice with toppings of meat, eggs, poultry, vegetables or a combination of ingredients. Oyako domburi is so called because it is made from chicken and eggs served over rice. From The Complete Asian Cookbook by Charmaine Solomon."
Ingredients
2 1/2 cups short-grain rice

1 large chicken breast fillets or 3 chicken thigh fillets

2 cups chicken stock

3 tablespoons mirin or 3 tablespoons dry sherry

5 tablespoons Japanese soy sauce

6 eggs

1/4 teaspoon salt

6 spring onions, thinly sliced
Directions
Cook rice according to recipe on pack for absorption method.

Skin and bone chicken, adding salt, cutting into small dice.

Heat chicken stock with mirin and soy sauce. When boiling add chicken, return to the boil, cover and simmer for 8 minutes.

Meanwhile, beat eggs slightly, adding salt. Add eggs and 3/4 of the spring onions to the simmering stock. Without stirring, let mixture return to the boil, then turn heat very low, cover and cook for 3-4 minutes until eggs are set but still soft.

Spoon rice into a heated earthenware bowl, then pour hot chicken and egg mixture over.

Garnish top with remining spring onions.

Serve immediately.

PS I like to marinate the chicken in 1 tablespoon each soy sauce and mirin for 15 minutes before cooking. I also add 1/2 cup frozen corn when cooking chicken.