Lemon & Spinach Stuffed Basil Chicken Breasts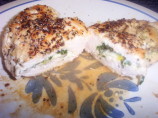 Photo by Mims & Squims
Prep Time: 25 mins
Total Time: 25 mins
Servings: 4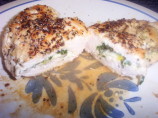 Photo by Mims & Squims
About This Recipe
"I never trusted spinach---it was green, and it looked like it would kill me. But this recipe changed all that!"
Ingredients
4 (6 ounce) boneless skinless chicken breast halves

2 slices lemons, thin & quartered

2 tablespoons fresh basil, chopped

1/2 cup fresh spinach, chopped

2 tablespoons olive oil

4 tablespoons red wine vinegar

2/3 cup fat-free chicken broth

1 teaspoon salt

1 teaspoon fresh coarse ground black pepper

1 teaspoon lemon pepper
Directions
Cut deep pocket in side of each chicken breast. Be careful not to pierce top and bottom.

Place 2 quarters of the lemon slice, and a fourth of the basil and spinach in pocket of each breast.

Thread wooden toothpicks along the side to close the chicken. Sprinkle with lemon pepper.

Heat oven to 200°F.

Heat oil in skillet over medium heat.

Add chicken to skillet & cook on each side until golden brown (3-5 minutes per side).

Add vinegar & broth, and bring to boil. reduce heat & simmer for 5 minutes, or until cooked through.

Remove breasts from skillet and place in baking dish in oven to keep warm.

Continue cooking sauce until reduced to a thick syrup. Add salt & pepper.

Remove chicken from oven and place on individual plates. Spoon sauce over each & serve.