Puerto Rican Beef Stew (Carne Guisada)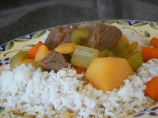 Photo by l0ve2c00k
Prep Time: 45 mins
Total Time: 2 hrs 45 mins
Servings: 7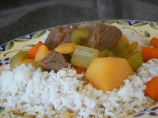 Photo by l0ve2c00k
About This Recipe
"This is my favorite stew. Back home it is served with grainy, yummy white rice."
Ingredients
1 tablespoon vegetable oil

2 lbs trimmed beef top round steak, cut into 1 inch chunks

1/4 cup sofrito sauce ( or to taste)

6 fresh cilantro leaves

4 cups water ( or more)

1 beef bouillon

2 tablespoons vinegar

1/2 teaspoon whole dried oregano, crushed

1/2 cup tomato sauce

2 bay leaves

1 tablespoon salt

1/2 lb carrot, cut into rounds

1/2 lb potato, peeled and cubed

5 stalks celery, cut into rounds

salt ( to taste)
Directions
In a large caldero or pot, heat oil, add sofrito and culantro leaves.

Add meat and stir constantly, cook until meat looses red color. Add water, bring to a boil. Reduce heat to low and cook.

Add carrots, potatoes, celery and salt.

Cook for about 2 hours. Taste and adjust seasoning. Boil uncover to thicken sauce.

Note: if more seasoning is needed you can add Adobo to taste.

Serve with white rice.