Auberge Blend - Herbes De Provence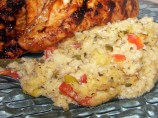 Photo by Baby Kato
Prep Time: 15 mins
Total Time: 15 mins
Yield: 1 Jar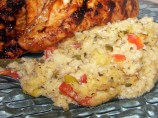 Photo by Baby Kato
About This Recipe
"There are numerous recipes for this famous herb mixture from the South of France. As a rule, it always contains thyme, lavender, rosemary, basil, savory, marjoram and basil, but it DOES vary from area to area depending on local tastes. This is my own "Auberge" blend that I make & use regularly in our Chambres d'Hôtes; I find it appeals to most people's taste! Feel free to add or omit those herbs that you are not keen on or find difficult to obtain. This makes a wonderful gift - add a ribbon, a sprig of lavender & a recipe! (I sell this blend at the Auberge, in little fabric bags with a recipe sheet inside!)"
Ingredients
1 tablespoon dried basil

1 tablespoon dried thyme

1 tablespoon marjoram

1 tablespoon dried summer savory

1 tablespoon dried chervil

1/2 tablespoon rosemary

1 -2 teaspoon dried lavender flowers

1 teaspoon dried tarragon

1 teaspoon dried mint

1/2 teaspoon dried oregano

1 bay leaf, crumbled

fennel seed (optional)

dried sage (optional)
Directions
Mix all the herbs together in a large bowl.

Put the herbs in a jar with a screw top lid and shake together once again.

Make sure it is well sealed and store away from direct sunlight in a cool, dark and dry area.

Use in all types of French cooking, on barbeques and grills, roast meats and poultry, sprinkle onto salads, in baked breads and gratins, pizzas and hot breads, kebabs and brochettes -- the list is endless!