Chicken Curry in Crispy Rice Cases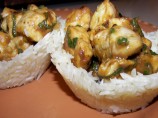 Photo by Baby Kato
Prep Time: 30 mins
Total Time: 45 mins
Servings: 6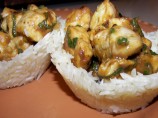 Photo by Baby Kato
About This Recipe
"This makes 6 individual chicken curry pies. You can vary the amount of curry paste used to suit your taste. Great for luch or serve with a salad or veges for dinner. A winner with the kids too! For gluten free-just ensure your flour mix and curry paste are gluten free"
Ingredients
1 egg

2 1/2 tablespoons plain flour or 2 1/2 tablespoons use a gluten-free flour

3 cups cooked rice

1 tablespoon oil

1 onion, finely chopped

750 g chicken thigh fillets, trimmed & cut into 2cm cubes ( or use chicken breast or tenderloin pieces)

1 tablespoon green curry paste

165 ml light coconut milk

1 tablespoon lime juice ( can substitite lemon juice)

1/3 cup basil leaves, finely shredded
Directions
Preheat oven to 180 degrees Celsius.

Grease and line 6 3/4 cup capacity pie pans (alternatively you can use muffin pans).

Combine the egg and flour in a large bowl. Add the rice and ensure well mixed.

Press 1/2 cup rice mix into the base and sides of each pan to form the pie shell. Its best to you wet hands.

Bake 10 to 15 minutes or until lightly golden and firm to the touch. Remove from the pans whilst still warm.

Heat the oil in a pan and cook the onion until tender. Add chicken and cook 5 minutes or until the chicken is lightly browned. Stir in the curry paste and cook for another minute.

Add the coconut milk to the chicken curry mixture and stir until it comes to the boil. Simmer for 10 minutes or un til the mixture thickens. Remove from the heat and stir in the lime juice and the basil.

Spoon the chicken curry mixture into the rice cases.

Enjoy!