Best Midwest Chili You'll Ever Eat * No Noodles or Kidney Beans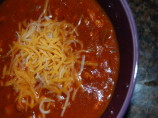 Photo by Juenessa
Prep Time: 15 mins
Total Time: 4 hrs 15 mins
Serves: 8-10, Yield: 1.0 slow-cooker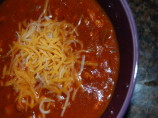 Photo by Juenessa
About This Recipe
"Nothing like going out on a limb with that title, right? :-) Made in the slow-cooker or a bean pot in the oven or in a pot on the stove-top, any way you prepare it---it comes out D-E-L-I-C-I-O-U-S! (Not that I'm biased!)"
Ingredients
1 lb ground beef or 1 lb ground venison or 1 lb ground turkey

1 large onion, diced

1/2 green pepper, diced

3 (15 ounce) cans chili beans, with sauce

1 (4 ounce) cans mushroom pieces

1 (10 ounce) cans tomato soup

1 quart tomato sauce ( or spaghetti sauce)

1 tablespoon garlic powder

1 tablespoon parsley

1 tablespoon basil

1 tablespoon oregano

2 -3 tablespoons chili powder

Optional Toppings
Directions
Fry ground meat; as it finishes, add the onion and sauté together.

While that is working, open all the cans and dump into slow-cooker; add the seasonings; stir to mix.

When meat is browned and onions are transparent or golden brown, add the green pepper, cook 1-2 more minutes; then add to the bean mixture; mix well.

Cook on high for 3-4 hours; medium for 4-6; low for 6-8 hours.

Serve with corn/tortilla chips in bottom of bowl, chili next, and cheese sprinkled over the top; onions & sour cream optional.

NOTE: This is actually even BETTER as leftovers!