Critchell House Prime Rib Soup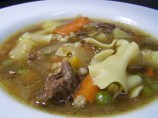 Photo by Diana #2
Prep Time: 15 mins
Total Time: 2 hrs 15 mins
Servings: 6-8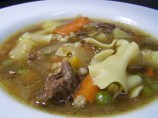 Photo by Diana #2
About This Recipe
"I've been making this for a while, but had never written anything down. Needless to say, it was always a little different, depending on which vegetables I ended up using. My DH would always say "That was good, can we have it again?" To which I would reply....No! His obvious response was.... "Why don't you ever write anything down?" Okay, so this time I did. This is a great recipe to use up any fresh or frozen vegetables. Needless to say, as long as you start with a good base, you are almost always guaranteed to be successful. This is quite filling, and wonderful served with Kittencal's Jalapeño Cheddar Cheese Bread. You really won't have room for much else. I hope you enjoy this as much as we do. Cooking time does not include refrigeration time."
Ingredients
6 cups water

4 beef ribs, cut from prime rib roast

1/4 cup barley

10 baby carrots

2 garlic cloves, whole

2 teaspoons salt

1/2 teaspoon black pepper

2 tablespoons beef bouillon, Bovril

2 potatoes, diced

1 onion, diced

1 cup egg noodles, small

1 cup frozen mixed vegetables
Directions
In a medium saucepan, bring to a boil, water, beef bones, barley, carrots and garlic. Reduce heat and simmer, covered, for 1-1/2 hours.

Remove from heat and allow to cool slightly. Remove bones, meat and carrots. (you won't find the garlic :) ) Shred the meat and return to the broth mixture. Discard the carrots, bones and any fat.

Refrigerate the broth to allow any remaining fat to harden. This makes it easier to remove. At this point, you can either continue on with the recipe, or the broth may be refrigerated for up to 3 days. You could probably freeze it as well, but I never have.

Once the fat has been removed, return the broth to the stove and heat to boiling.

Add in the salt, pepper, Bovril, potatoes and onion. Reduce heat and simmer, covered, for approx 25 minutes, stirring occasionally.

Add noodles and vegetables. Continue to simmer for about 20 minutes, or until the noodles are tender, stirring occasionally.

Enjoy!