" Lupo's " Chicken Spiedies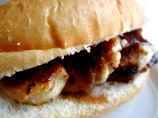 Photo by gailanng
Prep Time: 15 mins
Total Time: 25 mins
Servings: 3-4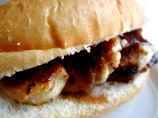 Photo by gailanng
About This Recipe
"I had the privilege to be introduced to the legendary Upstate New York gastronomic delight- the spiedie - while visiting Binghamton, NY. I've long ago used the last of the terrific Lupo's marinade I brought back to Australia with me. I searched for years to find a similar recipe and have tried many. This one was posted on a web forum and claimed to be the authentic recipe from someone who used to work there. I've adjusted it slightly and think its pretty close. This is my favorite football Sunday lunch."
Ingredients
2 -3 chicken breasts

1/3 cup olive oil

1/4 cup lemon juice

1/4 cup white vinegar

2 garlic cloves ( finely chopped or pressed)

1 tablespoon dried parsley

1 tablespoon dried basil

1/2 teaspoon dried oregano

1/2 teaspoon garlic salt

1/2 teaspoon salt

1/2 teaspoon cracked black pepper

3 -4 sandwich buns
Directions
Dice chicken breasts into 1" cubes.

Whisk all other ingredients together to form marinade. Set some aside for basting or sauce if desired (though I don't think this is necessary).

Add marinade to chicken and refrigerate overnight, stirring occasionally (the acidic nature of the marinade will 'chemically' cook the meat partially).

Thread 5 or so cubes onto metal or soaked bamboo skewers and grill for a few minutes either side, just until meat is firm (remember, they're already partially cooked by the marinade).

Place two skewers on a fresh bread roll or Italian bread, grip the meat firmly with the bread and pull out skewers.

Enjoy!