Roast Chicken-Chipotle Nachos With Cilantro-Avocado Crema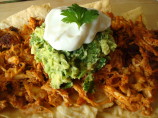 Photo by Starrynews
Prep Time: 20 mins
Total Time: 30 mins
Servings: 8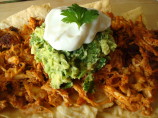 Photo by Starrynews
About This Recipe
"These appetizers are AWESOME! I found the recipe in a copy of Sunset magazine from my mothers house years ago and added my own touches--enjoy! Note: The best way for the chicken is to purchase a deli chicken about 2 pounds."
Ingredients
3 cups shredded rotisserie-cooked chicken

1/4 cup chopped green onion

1 tablespoon olive oil

1/2 teaspoon cumin

1/2 teaspoon dried oregano

2 cups chipotle chiles, chopped

2 tablespoons tomato paste

1 tablespoon white wine, of choice

24 corn tortilla chips

1 1/2 cups shredded monterey jack pepper cheese

1/3 cup finely diced avocado

fresh cilantro leaves

2 tablespoons sour cream or 2 tablespoons plain yogurt

2 teaspoons lime juice

2 teaspoons milk

1/2 teaspoon salt
Directions
In a 2 1/2 to 3 quart pan over medium high heat frequently stir onion in olive oil until onion begins to brown 4 to 7 minutes.

Add cumin and oregano stir until fragrant bout 30 seconds.

Add chiles, tomato paste, white wine, and 1/2 cup water,bring to a boil, then reduce heat and simmer gently, stirring often, to blend favors about 5 minutes.

Add chicken and stir until hot.

Meanwhile arrange tortilla chips in a single layer in a 12 by 17 inch pan (preferably glass).

Sprinkle equal portions of cheese on each chip and spoon chicken mixture on top.

Bake in a 450 degree regular oven until cheese begins to bubble about 3 minutes.

With a spatula, carefully transfer tortilla chips to a platter.

Top each with cilantro avocado crema.

Mix all left over ingredients to make the cilantro avocado crema, except the sour cream/ yogurt. Add last to chips and top each with a cilantro leaf.