Leg of Lamb for the Slow Cooker / Crock Pot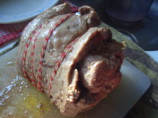 Photo by katew
Prep Time: 2 mins
Total Time: 10 hrs 2 mins
Servings: 6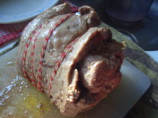 Photo by katew
About This Recipe
"Lamb is consumed quite a bit in Australia. I cooked this leg of lamb in the slow cooker today for Little Miss (DD) and Hubby (DD). I don't eat red meat, but I don't deprive my family if they want to eat it. You may not want to season the lamb with salt, as this recipe has the liquid stock & soy which both have high salt contents, but it's up to your taste bugs. You could also push some rosemary into the incisions with the garlic or sprinkle some around the lamb once its in the Slow Cooker / Crock Pot. Hubby said the meat fell away from the bone. Enjoy"
Ingredients
1 (2 1/2 kg) leg of lamb

5 garlic cloves, sliced

2 tablespoons olive oil, enough to rub leg of lamb

2 tablespoons fresh rosemary, off stem and chopped or 2 tablespoons dried rosemary

salt and pepper, to taste

4 cups vegetable stock, liquid ( salt reduced)

1/4 cup reduced sodium soy sauce
Directions
Make small incisions in leg of lamb and insert the slices of garlic in each incision.

Rub olive oil, rosemary around the lamb and season with salt and pepper.

In large non-stick pan, brown leg of lamb.

While the lamb is browning, you can prepare the slow cooker/crock pot. Pour the stock and soy sauce into the slow cooker/crock pot. When the lamb is finishing browning add it to the slow cooker/crock pot.

Cover and cook for 8-10 hours on low setting.

Remove from slow cooker/crock pot and let rest 15 to 20 minutes before slicing.