Rosemary Garlic Chicken Pocket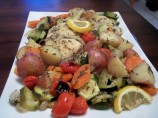 Photo by jrusk
Prep Time: 10 mins
Total Time: 40 mins
Servings: 2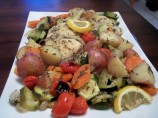 Photo by jrusk
About This Recipe
"Easy and savory meal in a foil pocket for the grill! You could probably do this in the oven as well, although I haven't tried it."
Ingredients
nonstick cooking spray

2 boneless skinless chicken breasts

8 ounces baby red potatoes, diced into 1/2-1 inch pieces

16 baby carrots

10 slices yellow squash, 1/2 inch slices

10 slices zucchini, 1/2 inch slices

16 -20 grape tomatoes

2 lemon slices

1/2 teaspoon dried rosemary

3/4 teaspoon minced garlic

1/4 teaspoon black pepper

1/4 teaspoon salt (optional)
Directions
Spray a short burst of non-stick cooking spray in a large plastic bag. Add all ingredients except lemon and toss with seasonings to coat.

Prepare 2 18" squares of heavy duty foil.

To make one pocket, put 1 chicken breast on the foil square and pile 1/2 of the veggies around and on top, topping with a lemon slice. Repeat with the remaining foil and ingredients.

Fold and seal foil around the ingredients leaving enough room for steaming.

Grill over medium heat for 25-30 minutes.

Careful of steam when opening!