Gluten-Free Kalamata Olive and Rosemary Bread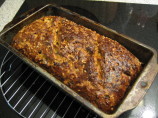 Photo by Andrew Mollmann
Prep Time: 20 mins
Total Time: 2 hrs 30 mins
Servings: 12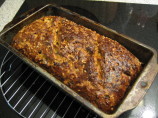 Photo by Andrew Mollmann
About This Recipe
"This is a delicious gluten-free olive oil loaf with a more rustic style and a soft, pliable texture. The rosemary and olives lend a wonderful flavor. It doesn't need to be toasted in order to be soft and delicious (unlike most GF breads). Try a slice with butter on it, or as an accompaniment to Southern European and Mediterranean dishes, or try it with any soup or stew. As for me, I ate the entire loaf (not at once, of course) with hummus on top because I loved how the flavors went together. It would also make a killer grilled cheese sandwich with sharp cheddar."
Ingredients
1/2 cup amaranth flour

1/4 cup garbanzo flour

1/4 cup rice flour, plus

2 tablespoons rice flour

5 tablespoons teff flour

1/4 cup tapioca starch

1/4 cup arrowroot

2 tablespoons flax seed meal ( ground flax seeds)

3 teaspoons xanthan gum

1 1/2 tablespoons fresh rosemary, finely minced

1/2 cup pitted kalamata olive, chopped roughly

2 teaspoons active dry yeast

1 teaspoon salt

2 whole eggs

2 eggs, whites separated from yolks

3/4 cup water, room temperature

5 tablespoons extra virgin olive oil

1 1/2 tablespoons honey

2 teaspoons apple cider vinegar

Optional
Directions
Preheat the oven to 200°F.

Sift the flours, yeast and all other dry ingredients (except coarse sea salt) into a medium bowl. Stir in flax meal and rosemary, and combine.

Combine wet ingredients, including the two whole eggs and the two separated egg whites in a large bowl, using a hand-mixer on low or medium speed. [The two separated egg yolks should be set aside in a small bowl for later use as a glaze]. When fully combined, add kalamata olives. Slowly add dry ingredient mixture and mix with a wooden spoon until fully blended, with no lumps. Scrape the sides regularly.

Grease a 9x5" bread pan, and pour the dough into the pan. Use a spatula or knife to evenly shape the top of the loaf. Cut two diagonal slashes in the top of the loaf. Beat the two separated egg yolks that have been set aside and brush the top of the loaf very lightly with them. Optional: Sprinkle coarse sea salt crystals very sparsely to embellish the loaf.

Turn off the oven and immediately place the pan in it. Do not open the door again, if possible. Allow the dough to rise for 90 minutes. It should rise to the very top of the pan.

Increase heat to 350F and bake for approximately 40 minutes. The crust should be golden-brown. Allow to cool slightly before removing it from the pan to finish cooling. Do not slice until the bread is no longer hot.

This loaf does not need to be frozen, but if there are leftovers after a few days, place slices in airtight bags and freeze.