Died and Went to Heaven Chocolate Cake,diabetic Version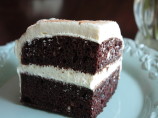 Photo by Photo Momma
Prep Time: 25 mins
Total Time: 1 hr
Servings: 10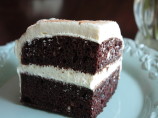 Photo by Photo Momma
About This Recipe
"Deliciously moist low-sugar chocolate cake, made even more flavorful by the addition of coffee. This is from the Splenda site. Please Note: Splenda Brown Blend is 50% sugar and this recipe uses 1/2 a cup. That's 1/4 cup of sugar in the entire cake. 1/4 cup =4 Tbsp. Splenda Brown has 4g of sugar per tsp =12 g per Tbsp and 48g (1 2/3 oz) in the entire cake. The cake is intended to serve 10. That will give you 4.8g (or 1/8 ounce ounce or 0.169 ounce according to the converter on this site) of sugar per serving. Please decide for yourself if this recipe is safe for you. I, myself, am insulin dependent and I get a higher spike from two slices of 100% whole wheat bread in a sandwich than from a slice of this cake. If you are a brittle diabetic or sensitive to all sugars you may wish to avoid this recipe."
Ingredients
1 3/4 cups all-purpose flour

1/2 cup Splenda granular

1/2 cup Splenda brown sugar blend

3/4 cup cocoa powder

1 1/2 teaspoons baking powder

1 1/2 teaspoons baking soda

1/2 teaspoon salt

1 1/4 cups low-fat buttermilk

1/4 cup vegetable oil

1/2 cup Egg Beaters egg substitute

2 teaspoons vanilla extract

1 cup hot strong black coffee
Directions
Preheat oven to 350 degrees F.

Grease a deep cake pan or bundt with non-stick cooking spray, set aside.

Blend flour, SPLENDA® Granulated Sweetener, SPLENDA® Brown Sugar Blend, baking powder, baking soda, cocoa powder and salt in large mixing bowl.

Combine buttermilk, oil, EggBeaters, vanilla extract, and coffee in a small bowl.

Add flour to mixture, using an electric mixer on medium speed, mix until Smooth (about 2 minutes).

Pour batter into cake pan or bundt pan.

Bake for 35 minutes, until an inserted toothpick in center of cake comes out clean. Let cool in pan for 5 minutes.

Note.

Exchanges per Serving: 2 Starches, 2 Fats.