Miami Beach Birthday Cake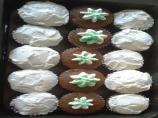 Photo by Chef #1306428
Prep Time: 30 mins
Total Time: 1 hr
Servings: 9-12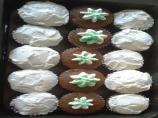 Photo by Chef #1306428
About This Recipe
"A light chocolatey cake with walnuts. Frosted with whipped cream. Compliments of a Pillsbury bake off recipe book. 1 cup of coconut can be substituted for graham cracker crumbs. Unfortunately this uses a lot of mixing bowls, so be ready for a lot of dishes to wash."
Ingredients
1 cup semi-sweet chocolate chips ( 1/3 cup of these are melted)

1/2 cup graham cracker crumbs

1/3 cup butter, melted

1/2 cup chopped walnuts

2 cups all-purpose flour

1 teaspoon baking soda

1 teaspoon salt

1/2 cup butter

1 1/2 cups sugar

2 eggs

1 teaspoon vanilla

1 1/4 cups buttermilk ( or sour milk)

Whipped cream

1 cup heavy cream

2 tablespoons sugar
Directions
Preheat oven to 375 degrees F.

Grease and flour 2 9-inch layer pans.

Melt 1/3 cup chocolate chips and set aside.

Combine graham creacker crumbs and melted butter.

Stir in walnuts and 2/3 cups chocolate chips; set aside.

In separate bowl, combine flour with baking soda and salt.

In large mixing bowl, cream butter and gradually add 1 1/2 cups sugar- cream til light and fluffy.

Add eggs, one at a time, mixing well after each addition.

Blend in melted chocolate and vanilla.

At low speed, alternately add dry (flour mixture) ingredients and buttermilk (begin and end with dry ingredients) and mixing well after each addition.

Pour into pans and sprinkle with graham cracker crumb mixture.

Bake 375 for 30-40 minutes, until cake springs back when touched in center.

Allow to cool before frosting.

For whipped cream:.

Beat cream with 2 tablespoons sugar until stiff.

Frost center and sides of cake. Not supposed to frost top, but can if you'd like.

Refrigerate.