Chinese Take-Out Kung Pao Chicken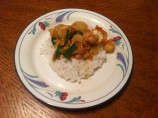 Photo by h8windows
Prep Time: 25 mins
Total Time: 50 mins
Servings: 4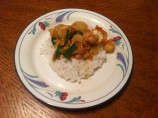 Photo by h8windows
About This Recipe
"This is just as good as any Chinese restaurant! ---one tablespoon of hot chile paste will give you a medium-high heat, if you prefer a less spicy flavor then reduce the hot chile paste, this is very hot! I would strongly suggest to double the sauce ingredients or use 2 pounds of chicken and double the sauce x4. Add in some baby corn, mushrooms, peas or other veggies if desired. This can also be made using thinly sliced beef in place of chicken"
Ingredients
1 lb boneless skinless chicken breast ( cut into about 1-inch chunks)

cooked white rice

finely chopped green onion ( for garnish) (optional)

coarsley chopped peanuts (optional) or cashews (optional)

MARINADE

SAUCE

2 tablespoons water

1 tablespoon white wine

1 1/2 tablespoons low sodium soy sauce

1 tablespoon sesame oil

3 teaspoons cornstarch

2 tablespoons cold water

1 tablespoon hot chili paste ( or to taste)

1 teaspoon white vinegar

3 teaspoons brown sugar

3 -4 green onions, chopped

3 -4 teaspoons fresh minced garlic

1 (8 ounce) cans water chestnuts, drained

1/2 cup chopped salted cashews ( or use peanuts)
Directions
For the marinade; place the chicken cubes into a glass bowl.

In a bowl whisk together 1 tablespoons cornstarch with 2 tablespoons, then add in wine, soy sauce and sesame oil; pour over the chicken cubes and toss to coat.

Cover and refrigerate for 35 minutes.

For the sauce (I suggest to double all ingredients for 1 pound of chicken) in a small heavy saucepan combine 2 tablespoons water, 1 tablespoon white wine, 1-1/2 tablespoons soy sauce, 1 tablespoon sesame oil and 3 teaspoons cornstarch mixed with 2 tablespoons cold water, hot chile paste, vinegar and 3 teaspoons brown sugar; mix until well blended.

*NOTE* if you are doubling the sauce then still only use one can drained water chestnuts, 5 green onions only and increase the garlic only a small amount or keep to the same amount.

To the sauce add in green onions, minced garlic, water chestnuts and peanuts; heat the sauce over very low heat stirring until thickened (about 5-8 minutes).

Meanwhile remove the chicken from the marinade then saute in a large skillet or wok until the chicken is cooked through.

Add the cooked sauce to the chicken and simmer stirring with a wooden spoon until thickened (if the sauce is too thick then add in a small amount of water to thin).

Serve over cooked rice and garnish with a small amount of finely chopped green onion or chopped peanuts.