Pressure Cooker Corned Beef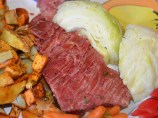 Photo by notkrap
Prep Time: 10 mins
Total Time: 1 hr 10 mins
Servings: 4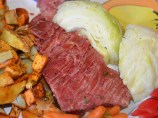 Photo by notkrap
About This Recipe
"The easiest and most tender corned beef. This recipe is for all of you that have that pressure cooker tucked away someplace. It makes the most tender corned beef brisket, in just over an hour. Cooking with the water tends to cut the salt down some also. Once you make it this way, you'll never go back to oven cooking. Just remember the key to a good brisket, is always cutting against the grain. The point cut may have two or more grains, so cut carefully."
Ingredients
1 (3 lb) corned beef brisket, flat cut preferred

1 bay leaf

1 garlic clove

1 teaspoon pickling spices (optional)

water
Directions
Place corn beef in pressure cooker. If, too large, cut in half. Add season packet, that comes with meat, along with bay leaf, garlic and pickling spices if using. Add water, so just even with top of meat.

Turn burner on, and bring to a boil, put cover and rocker on, and cook until rocker starts rocking. Keep at medium to low rocking motion, and cook for 1 hour. Turn off burner. Allow pressure to escape on it's own. Carefully open pot and remove meat to serving platter. Let rest 5 minutes, and slice in thin slices, against the grain with electric knife.