Homestyle Alberta Beef on a Bun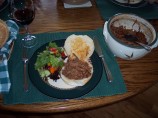 Photo by Lazarus
Prep Time: 30 mins
Total Time: 8 hrs 15 mins
Servings: 12-15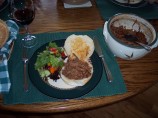 Photo by Lazarus
About This Recipe
"This is my mother's recipe, and a favorite of everyone who's ever tasted it. It takes a long time to cook, but very little prep. Start it in the morning, and you'll have a delicious meal waiting for you in the evening. Don't worry about using an expensive roast. The cheap tough ones turn out beautifully."
Ingredients
5 lbs round roast

1 (425 ml) bottles barbecue sauce ( we prefer Bull's Eye original)

4 fresh garlic cloves, minced

pepper

18 kaiser rolls
Directions
Place frozen roast in roasting pan.

Heat, uncovered, at 450 degrees for 45 minutes (30 minutes for smaller roast).

Remove roast from oven, and season with garlic and pepper.

Cover, decrease heat to 275 degrees, and roast for approx 4 hours until fork tender.

Pull apart roast with fork.

Layer ingredients into slow cooker (1 layer beef, 1 layer au jus from roasting pan, 1 layer BBQ sauce). Repeat until all ingredients have been added.

Heat on low until warmed through and bubbling (2-3 hours).

Spoon onto sliced Kaiser rolls, and enjoy!