Like Starbucks Blueberry / Raspberry Scones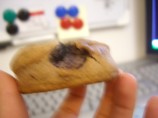 Photo by Chef #851205
Prep Time: 30 mins
Total Time: 40 mins
Yield: 6-7 scones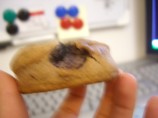 Photo by Chef #851205
About This Recipe
"This is a vegan cersion of this Starbuck's scone. This recipe origially comes from www.recipehints.com."
Ingredients
1 3/4 cups all-purpose flour

3/4 cup quick oats

1/2 teaspoon baking soda

2 teaspoons baking powder

1 dash salt

3/4 cup vegan sugar

1/2 cup vegan butter

2 tablespoons lemon juice

1/2 cup soymilk or 1/2 cup rice milk

1 cup frozen blueberries or 1 cup frozen raspberries
Directions
Preheat oven to 400 degrees. Grease cookie sheet lightly with butter or oil.

In large bowl, combine flour, oats, baking soda, baking powder and dash of salt. Add in vegan sugar, butter (softened), lemon juice, and soymilk and mix until just combined.

Stir in blueberries and/or raspberries LAST and gently mix. Do not over mix!

(Over mixing dough with berries can cause your scone to have a dullish purple/gray hue rather than a warm buttery color.)

Drop dough into 6-7 circular clumps on cookie sheet and bake for 10-15 minutes, or until lightly browned on top.