Traditional Swiss Carrot Cake (Aargauer Ruebli Torte)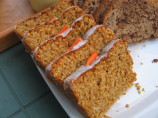 Photo by Chickee
Prep Time: 1 hr
Total Time: 2 hrs
Yield: 10 or more slices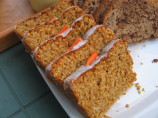 Photo by Chickee
About This Recipe
"Posted by request, this recipe is an adaptation of one found in The Swiss Cookbook by Nika Standen Hazelton. The prep time is approximate and allows for grating of carrots and beating of egg whites as well as the actual mixing up of the batter."
Ingredients
2/3 cup raw carrot, freshly grated and firmly packed

1 2/3 cups almonds, finely ground

3/4 cup fine dry breadcrumb, plus more for dusting pan

1/2 teaspoon ground mace

1/2 teaspoon ground cinnamon

1 teaspoon ground ginger

1 teaspoon baking powder

6 large eggs, separated

1 1/4 cups granulated sugar

2 teaspoons grated fresh lemon rind

3 tablespoons kirsch (cherry liquor) or 3 tablespoons fresh lemon juice

Glaze

1 cup sifted powdered sugar

1 tablespoon water

1/4 teaspoon vanilla extract

candied fruit ( to garnish)
Directions
Combine carrots and nuts in a mixing bowl.

In a small bowl, combine breadcrumbs with the spices and baking powder, then blend into the carrot mixture.

Beat the egg yolks until thick and lemony.

Gradually beat the granulated sugar into the yolks, along with the lemon rind and the Kirsch (more authentic) or lemon juice (if you don't like to use alcohol in your cooking).

Beat this mixture until thick, then stir into the carrot mixture.

Beat egg whites in a clean bowl until stiff peaks form, then fold them gently into the carrot mixture- do not overmix.

Line an 8" springform pan with waxed paper or parchment.

Grease pan (including the paper lining) and dust with a very light sprinkling of fine dry breadcrumbs.

Shake pan to make sure breadcrumbs coat evenly.

Pour batter into the pan and bake in a preheated moderate oven at 350 F for 1 hour, or until a cake tester comes out clean.

Let cool.

Mix together glaze ingredients.

Remove sides from pan and set cake on a wire rack that has been set over wax paper to catch the drips.

Spoon the glaze over the top of the cake and sides, using a spatula to even out the glaze as you prefer.

Garnish with some candied fruits, if desired.

Store in a tightly covered cake box.

This cake improves with age.