Leftover Chicken or Turkey Rice Casserole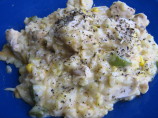 Photo by ~Leslie~
Prep Time: 8 mins
Total Time: 58 mins
Servings: 4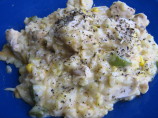 Photo by ~Leslie~
About This Recipe
"I had a look at some of the other recipes like this on Recipezaar but mine is a little different so here it is. Occasionally we will have a roast turkey as a treat and this is what I make with the leftovers. I haven't made it with chicken yet but I'm sure it is just as tasty as with the turkey. It is also kid friendly, my 17 month old daughter will eat this no problem. (Cooking time includes 10 mins approx for cooking of rice)"
Ingredients
2 teaspoons olive oil

1 small onion, diced

1 garlic clove, minced

1 red capsicum, chopped ( bell pepper)

1 cup canned corn kernel

1 cup chicken stock

1 1/2 teaspoons dried thyme

2 cups cooked rice

1/4 cup sour cream

1 -2 tablespoon mustard ( any is fine, choose your favourite)

250 g cooked chicken or 250 g cooked turkey, diced

100 g tasty cheese, shredded

2 tablespoons parsley, chopped

black pepper
Directions
Pre-heat oven to 180C and spray a casserole dish with nonstick cooking spray.

Heat oil in a frypan and add garlic and onion, saute for 3 minutes.

Add the capsicum, corn, 1/4 cup stock, thyme and pepper, cook until capsicum softens, approx 3 minutes.

Stir in the remaining stock, rice, sour cream and mustard. Add the chicken and remove from heat.

Stir in 1/3 of the cheese and parsley until well combined.

Transfer mix to the prepared casserole dish and sprinkle with the remaining cheese.

Cook for approx 20-25 mins until the casserole is heated through and the cheese has melted.