Olive Garden Seafood Portofino - Lower Fat!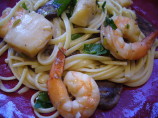 Photo by cookiedog
Prep Time: 15 mins
Total Time: 30 mins
Servings: 10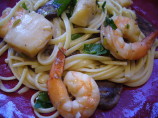 Photo by cookiedog
About This Recipe
"This is a good slimmed down version of Olive Garden's Seafood Portofino copycat. It doesn't come out quite as buttery flavored, but it is still super creamy and flavorful. If you like, add some other veggies to this sauce. I think that broccoli and peas are both great with this!"
Ingredients
Portofino Sauce

2 ounces light butter

1/4 cup yellow onion, 1/4-inch dice

10 garlic cloves, minced

1/4 cup clam juice

1 cup white wine

1 cup skim milk

1/2 pint fat-free half-and-half

1 ounce shrimp stock ( try Recipe #61197)

1 teaspoon Old Bay Seasoning

1 1/2 tablespoons cornstarch

Pasta

1 tablespoon olive oil

1 lb mushroom

1 lb linguine, precooked ( hot)

fresh parsley

2 lbs shrimp

1 lb crawfish

1 lb scallops

60 mussels

1 -2 cup peas (optional) or 1 -2 cup broccoli (optional)
Directions
PORTOFINO SAUCE:.

Start by getting your ingredients ready. Dice the onion.

Melt butter on medium heat. Add diced onion and garlic, stirring frequently, about 5 minutes until onion is soft.

Add white wine. Turn up heat to high until boiling then back down to medium. Cook 5 minutes on medium.

Stir in clam juice, shrimp stock, and Old Bay Seasoning.

Stir together milk and half-and-half. Add cornstarch to this mixture, 1 tablespoon at first. Stir milk mixture in slowly, allowing the sauce to thicken. Add about half at first, slowly, while stirring.

If you'd like a thicker sauce, add more cornstarch to milk mixture. Continue to add milk mixture slowly, making sure that sauce is the desired thickness.

The sauce is now ready! It can be store for up to one week in the refrigerator. I like to freeze it in ice cube trays and use whenever I like.

Seafood Portofino:.

Heat oil in saute pan over medium flame. Put mushrooms inches Cook 2 minutes.

Add mussels, and cook 30 seconds.

Add shrimp, crawfish, and scallops. Cook until heated through, stirring.

Add portofino sauce; cook until bubbling throughout.

Move mushrooms and seafood to one side of pan. Add linguine to other side. Using tongs, coat pasta with sauce (mussels should be open).