Rice Pudding With White Wine (Sutlach Sharapli)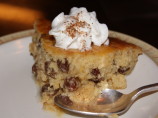 Photo by CaliforniaJan
Prep Time: 15 mins
Total Time: 1 hr 25 mins
Servings: 6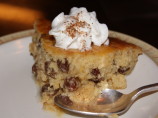 Photo by CaliforniaJan
About This Recipe
"Middle Eastern cuisine was entirely new to me till the ZWT last yr, but I love rice pudding & consider it the ultimate comfort food. I recently ran across this recipe by Irfan Orga from "Cooking the Middle East Way". I admit it is rich & a bit labor-intensive, but I found the prep & likely outcome intriguing. I hope you will as well. Enjoy! (Time does not include time for mixtures to cool, rest or chill under refrigeration at various stages of the prep)"
Ingredients
1/2 cup white rice ( uncooked, but rinsed)

1 1/4 cups milk

1 1/4 cups light cream

2 tablespoons butter

3/4 cup raisins

3 tablespoons fine sugar

1 pinch salt

2 eggs ( lightly beaten)

3/4 cup almonds ( blanched & ground)

3/4 cup granulated sugar

2/3 cup dry white wine

1 cup heavy cream
Directions
Preheat oven to 350°F (180°C).

In a lrg saucepan, boil rice in plenty of water till very soft. Drain well of liquid thru a fine sieve & return rice to the pan.

Add milk, light cream, butter, raisins, fine sugar & a pinch of salt.

Cook over med-heat till mixture is quite thick, stirring freq to prevent burning. Remove pan from heat & allow mixture to cool.

Add beaten eggs + ground almonds & stir thoroughly.

Pour pudding mixture into a well-buttered shallow baking dish & cook for 30 min or till the top of the pudding is a golden brown color.

Remove pudding from oven & allow to rest for 10 minutes. With a very sharp knife, cut pudding into triangular shapes in the baking dish & allow it to cool completely.

Meanwhile, put the granulated sugar & wine in a heavy saucepan & boil uncovered, stirring till the sugar dissolves & a thick syrup is obtained (about 10 min).

Pour the syrup over the cut rice shapes in the dish & leave it to be absorbed. Chill in refrigerator till completely cold & serve w/whipped cream.