Irish Cream Bread Pudding With Caramel Irish Cream Sauce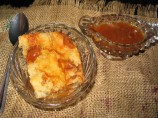 Photo by Lorrie in Montreal
Prep Time: 15 mins
Total Time: 2 hrs 15 mins
Servings: 10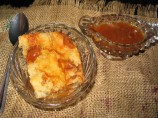 Photo by Lorrie in Montreal
About This Recipe
"Anyone that knows me here on Zaar knows I love bread pudding and baileys... so I had to add the two together with this fabulous dessert."
Ingredients
Bread Pudding

1 loaf stale French bread

473.18 ml milk

236.59 ml heavy cream

118.29 ml irish cream

29.58 ml unsalted butter, softened

3 eggs

295.73 ml granulated sugar

14.79 ml vanilla extract

118.29 ml raisins

Caramel Irish Cream Sauce

59.14 ml water

236.59 ml granulated sugar

78.07 ml freshly brewed coffee

78.07 ml heavy cream

4.92 ml lemon juice

59.14 ml irish cream
Directions
Pudding: Crumble the bread, with the crust, into a bowl. Cover with combined milk, cream and liqueur and let stand an hour or until the bread has absorbed most of the liquid.

Preheat oven to 325 degrees F. Butter a 13 x 9-inch baking dish and set aside.

Beat eggs, sugar and vanilla extract until well blended. Mix gently with bread and raisins. Spoon into pan, smooth top. Bake until light brown and the custard is set, about an hour.

Caramel Irish Cream Sauce: Pour sugar into water in saucepan and let stand until sugar is wet. Add 2 tbsp of butter and cook on medium high to high, stirring constantly, until the mixture turns nut brown. Remove from heat. Immediately and CAREFULLY, to avoid splatters, pour in coffee and cream into the saucepan. Return to heat and cook, stirring constantly, until caramel melts. Add more cream if caramel is too dark. Remove from heat and cool. Stir in lemon juice and liqueur just before serving.