Sopa Seca De Arroz- Mexican Rice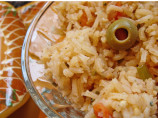 Photo by Bev
Prep Time: 15 mins
Total Time: 1 hr
Servings: 6-8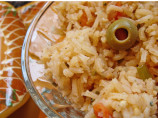 Photo by Bev
About This Recipe
"My BF said this was the best rice he had ever eaten. I adapted this recipe from a Sunset Mexican Cookbook. This recipe can easily be cut in half."
Ingredients
2 cups long grain rice

6 tablespoons butter or 6 tablespoons margarine

2 small onions, finely chopped

3 garlic cloves, minced

4 medium tomatoes, peeled and chopped

4 cups regular-strength chicken broth

2 -3 california chilies (optional) or 2 -3 pasilla chiles, medium sized, seeded and chopped (optional)

2 tablespoons chopped fresh cilantro (optional)

1 cup pimento stuffed olive
Directions
In a wide frying pan over medium-high heat, brown rice lightly in butter or margarine.

Add onion, garlic, tomato, and chiles, if used and cook for 2 or 3 minutes; add 3 cups of the broth.

Cover and simmer 25 to 35 minutes or bake, covered, in a 350F oven 50 to 60 minutes.

Add more broth, if needed, to cook rice. However, there should be no liquid remaining when rice is tender to bite.

Add cilantro, if desired, during last 10 minutes.

Garnish rice with olives.