Red Currant Pie (Or is It Cake?)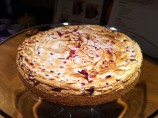 Photo by minnow44@yahoo.com
Prep Time: 20 mins
Total Time: 1 hr
Servings: 8-10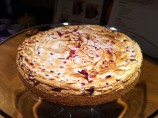 Photo by minnow44@yahoo.com
About This Recipe
"While visiting my daughter in Germany, we were given a basketful of fresh red currants, a sweet-tart berry, and tried this recipe on a whim. It was wonderful! The currants kept their fresh flavor and the pie/cake was a perfect base. Back home, I'm going to try the same recipe with fresh strawberries, then fresh blueberries, then fresh raspberries..."
Ingredients
For Crust

1 1/2 cups all-purpose flour

1 teaspoon baking powder

1/2 cup butter, softened

1/2 cup white sugar

2 egg yolks

1 1/2 teaspoons lemon zest, grated

For Filling
Directions
For Crust: In a medium bowl, sift together flour and baking powder.

Mix in butter, sugar, egg yolks and lemon zest until mixture forms dough.

Pat the dough evenly into the bottom of a 9" springform pan.

Chill dough in pan for 25-30 minutes.

Preheat oven to 325 degrees F (165 degrees C).

Bake in oven for 25 minutes, or until golden.

For Filling: In a medium bowl, beat egg whites until stiff.

Gradually stir in sugar and cornstarch; beat for 5 minutes.

Fold currants into mixture and pour into warm crust.

Bake in oven for 10 minutes, or until top is lightly browned.

Cool completely before serving.