Upside-Down Pear Gingerbread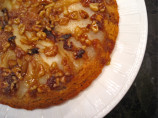 Photo by kelly in TO
Prep Time: 15 mins
Total Time: 55 mins
Servings: 12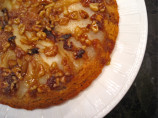 Photo by kelly in TO
About This Recipe
"The glistening cake gets its rich taste from applesauce and spices instead of butter - Vegetarian Times."
Ingredients
1 tablespoon unsalted butter, melted

3/4 cup whole wheat pastry flour

3/4 cup all-purpose flour

2 teaspoons ground ginger

1 1/2 teaspoons ground cinnamon

1 teaspoon baking powder

1/4 teaspoon baking soda

1/4 teaspoon salt

1 large egg

1/3 cup sugar

1/3 cup molasses

1/3 cup unsweetened applesauce

1/4 cup canola oil

1/3 cup low-fat plain yogurt

pear topping

1/4 cup packed light brown sugar

1/4 cup chopped walnuts

3 pears, peeled cored and thinly sliced lengthwise
Directions
Preheat oven to 350°F.

Brush 10-inch cast iron skillet or 8x8-inch glass baking dish with butter.

To make gingerbread: Whisk flours, ginger, cinnamon, baking powder, baking soda and salt in medium bowl. Beat egg, sugar and molasses with mixer for 3 minutes. add applesauce and oil, and beat until blended. Fold in flour mixture and yogurt.

To make pear topping: Press brown sugar over bottom of prepared skillet. Sprinkle with nuts. Arrange pear slices in circles over nuts. Pour batter over pears.

Bake 35 - 40 minutes or until toothpick inserted in center comes out clean. Loosen edges with knife. Invert cake onto platter.