Peachy Piquant Pork Bake - Oven Bake or Barbecue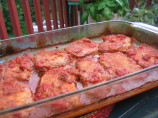 Photo by Lorrie in Montreal
Prep Time: 2 hrs
Total Time: 2 hrs 55 mins
Servings: 4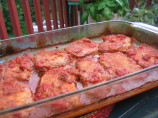 Photo by Lorrie in Montreal
About This Recipe
"A tangy and very fruity marinade which moistens dry meat, such as lean pork chops; this recipe is so easy, once the chops have been doused in the marinade for a couple of hours, they can be oven baked or barbecued. This marinade also works very well with chicken breasts or turkey fillets. If you are watching your fat intake, cut down on the olive oil - there isn't much, but it does help make the chops juicier! Serve with a selection of vegetables and/or assorted salads & crusty bread - depending on the season! This recipe is based on four people eating with accompaniments."
Ingredients
MARINADE

7 ounces half a tin chopped tomatoes

2 tablespoons peach jam or 2 tablespoons peach relish

2 teaspoons balsamic vinegar

2 teaspoons olive oil

1 teaspoon soy sauce or 1 teaspoon maggi seasoning

2 teaspoons garlic granules or 2 garlic cloves, peeled & crushed

2 teaspoons ground ginger

1 teaspoon sweet paprika

1 teaspoon cayenne pepper
Directions
Pre-heat the oven to 200°C/400°F.

Lightly grease an ovenproof baking dish.

Put all the marinade ingredients into a roomy bowl & mix them together, ensuring that they are well blended.

Put about one third of the marinade in the ovenproof dish.

Place the pork chops on top and then dribble the rest of the marinade over the top of the chops.

Cover with cling film & leave to marinate for at least 2 hours, preferably overnight in the fridge, if you have time!

When you are ready to cook them, take them out of the fridge at least 30 minutes beforehand and bake in a pre-heated oven for 45 to 55 minutes, OR cook over hot coals on the barbecue for about 30 to 45 minutes.