Artichoke and Broccoli Frittata / Crustless Quiche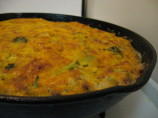 Photo by What's Cooking?
Prep Time: 15 mins
Total Time: 45 mins
Servings: 10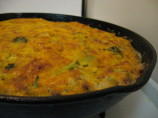 Photo by What's Cooking?
About This Recipe
"A frittata (also known as crustless quiche) is a perfect palette for colorful vegetables and strongly flavored cheeses. What I love about frittatas is that they are one of the few egg dishes that are delicious at room temperature and can be stored in the refrigerator (or even frozen) for days. This one is not just for breakfast - Try it for lunch or dinner with a salad or steamed veggies. Eat hot or at room temperature - Leftovers can be heated in toaster oven or microwave. I designed this recipe to be gluten-free, using my homemade fresh gluten-free Italian breadcrumbs - But you can use any type of breadcrumbs you like."
Ingredients
8 eggs

1/2 cup milk

1 (6 ounce) jars marinated artichoke hearts, drained

2 cups small fresh broccoli florets

3 garlic cloves, minced

1/2 onion, chopped

1/4 teaspoon salt

1/4 teaspoon ground black pepper

1/4 teaspoon cayenne pepper

2 teaspoons fresh dill, minced

1/2 cup breadcrumbs ( regular or gluten-free, fresh or dry)

2 cups shredded sharp cheddar cheese

1/4 cup shredded parmesan cheese ( not grated)

2 tablespoons extra virgin olive oil
Directions
Preheat oven to 350°F

Chop the artichoke hearts coarsely.

Heat olive oil in a heavy 10-inch oven-safe cast iron pan over medium flame.

Add onions and cook until they are translucent.

Add garlic and broccoli; saute until the onions have begun to brown and the broccoli is cooked through but still crisp. Remove from heat.

In a large bowl, combine eggs, herbs and spices and milk; whisk until well beaten.

Add parmesan, breadcrumbs, artichokes, and half of the cheddar cheese. Stir gently; pour mixture over the broccoli and onions.

Sprinkle remaining cup of cheddar cheese over the top of the eggs - Do not stir.

Bake for 30 minutes or until firm.

Place under the broiler for 2-3 minutes or until cheese is bubbly and lightly browned.

Serve hot or at room temperature.

Leftovers can be successfully reheated in oven, microwave or toaster oven. Serves 10.