Rock and Roll BBQ Clam Chowder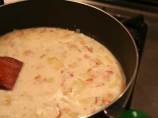 Photo by The Rock & Roll BBQ Chef
Prep Time: 35 mins
Total Time: 1 hr
Servings: 8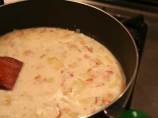 Photo by The Rock & Roll BBQ Chef
About This Recipe
"After a recent trip to San Francisco I decided to make a few adjustments to my recipe and post it. I get a lot of requests for this recipe. I use it on my catering menu as well. This recipe uses canned clams, I use fresh when making it for myself but this is much easier and faster."
Ingredients
1/2 lb bacon

6 tablespoons butter

1 cup onion, finely chopped ( 1 large)

1 cup celery, finely chopped ( 4 ribs)

4 garlic cloves, minced

8 tablespoons all-purpose flour

3 (6 1/2 ounce) cans minced clams, and the juice

2 lbs red potatoes, peeled and chopped

8 ounces bottled clam juice

3 cups half-and-half

1 teaspoon celery salt

1/2 teaspoon black pepper

1/2 teaspoon thyme

1/2 teaspoon cayenne
Directions
Fry bacon. When it's done put it on some paper towels to drain. Pour the dripping into a large stock pot.

Add butter to the stock pot and heat over medium until butter is melted.

Add the onions, celery, and garlic to the pot. Cook on medium-high heat until the vegetables are translucent and soft.

Slowly add flour while continually stirring. You are making a roux. DON'T JUST DUMP THE FLOUR IN! It is very important to slowly whisk/stir in the flour. Once all of the flour has been added continue to cook and stir for 5 minutes.

Add chopped clams and their juices, diced potatoes, clam juice, spices, and the half and half. Bring to a boil. When it boils immediately reduce to a simmer for 15 to 20 minutes. Stir often. You can add some whole clams at this point too.

Check the potatoes. When they are done -- SOUP'S ON!

Garnish and serve. Bread bowls are the best for this soup but regular bowls work fine. Cheese or fresh herbs make a great garnish. Fresh cracked pepper and hot sauce are a popular and tasty topper too.