Spatchcocked Crispy Happy Chicken With Rich Orange Sauce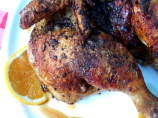 Photo by Zurie
Prep Time: 30 mins
Total Time: 1 hr 15 mins
Servings: 4-6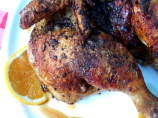 Photo by Zurie
About This Recipe
"Tigerduck set the ingredients nicely to Celebrate Chinese New Year beginning February 18 is called the Spring Festival! Year of the Pig! Chicken symbolizes happiness and prosperity--especially when served whole, serving it with an orange sauce because oranges represent wealth and good fortune they are China's most plentiful fruit. You can serve over rice or Longevity Noodles (which represent a long life an old superstition says that it's bad luck to cut them so leave them whole) to help absorb the sauce. This recipes integrates Asian (orange sauce), then a cooking Technique from Italy (an old method from Tuscany, what they call pollo al mattone), And a Tex-Mex (addition from the spicy smoky rub) a fusion to create this innovation of explosive new tastes and textures. Yes, bricks for the weight which will flatten the chicken resulting in a very crispy skin and a tender bird. Butterfly - Set the chicken on a board breast side down. With heavy kitchen scissors, cut along either side of the backbone, beginning at the tail end and cutting up. With one hand on each side of the chicken, open it forcefully, bending it back so the breastbone pulls away from the flesh on one side. With your hands, pull out the diamond-shaped purple bone in the center of the breast. If you don't have a pan large enough to hold the bird flat in 1 piece cut with the shears, along the center of the breast to halve the bird so to fit in 2 pans. ------"
Ingredients
Chicken Under A Brick

1 tablespoon olive oil

1 (3 lb) chicken ( Butterflied See note above, discard any lumps of fat,wash and towel dry, loosen the skin from the fl)

Rub mixture

1 teaspoon kosher salt

fresh cracked pepper ( 20 turns of)

6 garlic cloves, minced

2 teaspoons chili powder

2 teaspoons cumin

1 teaspoon dried thyme leaves

1 teaspoon fennel seed

Orange Sauce

1 tablespoon butter or 1 tablespoon oil

1/4 cup white onion, diced

1/2 teaspoon garlic, minced

1/2 teaspoon gingerroot, minced

1/4 cup brown sugar, packed

1 cup water

1 orange, juice and zest of

2 tablespoons lemon juice, fresh

1/4 cup rice vinegar

2 1/2 tablespoons soy sauce

Slurry

Garnish
Directions
Chicken:.

Mix salt, pepper, garlic, chili powder, thyme, fennel and cumin.

Rub chicken under skin and all over the chicken with all of the spice mixture; cover and marinade in refrigerator for 4-24 hours.

Preheat oven to 450 degrees.

Heat heavy large cast iron pan over medium high heat, add oil, placing chicken skin side down immediately place a very heavy pan or foil covered bricks on chicken and cook (without moving the chicken) until the skin is a golden brown (check with a tongs) till very crisp about 15 minutes.

Orange Sauce:.

Meanwhile melt butter in a medium hot pan; add and saute onions for 3 minutes add garlic, ginger, brown sugar, water, orange juice and zest, lemon juice, rice vinegar, and soy sauce; bring to a boil simmer for 5 minutes.

Mix together cornstarch and 2 tablespoons cold water or Grand Mariner making a slurry; add the slurry to the sauce whisking all the time to keep the sauce smooth; reduce heat to medium low; and simmer, about 5 minutes.

Remove the bricks and turn chicken skin side up and finish roasting for 20-25 minutes. Until a thermometer inserted in the thigh registers 160-165 degrees when juices run completely clear, and the skin should be a gorgeous golden-brown, and exceedingly crispy.

Remove chicken and let rest on a cutting board.

De fat the pan drippings.

Add the Orange Sauce to the pan juices. Strain the sauce.

Pour sauce into a gravy boat drizzle some on a platter and place the chicken on the sauce with crispy crust up.

Serving immediately with additional sauce and Longevity noodles or rice.