Apricot White Chocolate Turnovers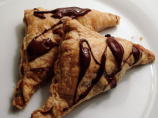 Photo by Kim127
Prep Time: 20 mins
Total Time: 45 mins
Servings: 18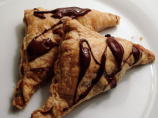 Photo by Kim127
About This Recipe
"------Lovely crisp sweetness.------"
Ingredients
1 (397 g) packages puff pastry

1 (5 1/2 ounce) cans coconut milk

2 ounces fine coconut

4 ounces dried apricots, chopped fine

3 ounces walnuts, rough chopped

3 ounces white chocolate, melted

1/2 cup brown sugar or 1/4 cup Splenda brown sugar blend

1 lemon, zest of

1 pinch salt

1 ounce dark chocolate, melted
Directions
Preheat oven to 350F degrees.

Set puff pastry out to thaw at room temperature.

While pastry is thawing make the filling:.

Add to a small heavy pot, coconut milk, coconut, apricots, walnuts, brown sugar and lemon zest; bring to simmer, simmer and stir just until the brown sugar is melted; remove from heat, slowly add melted white chocolate while stirring; set aside to cool.

Roll out half of the puff pastry to a 12 inch square; cut into nine squares.

In the middle of each square place about 1 tablespoon of the apricot mixture. Moisten the four sides with water.

Turn opposite corners over the filling to form a triangle; pinch together the two sides and place on an ungreased non stick cookie sheet, poke a hole in the top of each triangle. Bake on middle oven rack for approximately 20 minutes or until golden brown.

Repeat with the other half of the puff pastry.

Cool on a rack, when cool drizzle melted dark chocolate on triangles.