Pasta With Lima Beans and Swiss Chard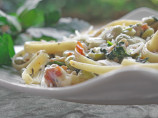 Photo by SusieQusie
Prep Time: 15 mins
Total Time: 40 mins
Servings: 4-6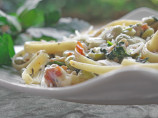 Photo by SusieQusie
About This Recipe
"A teacher friend brought this in for her lunch and it smelled wonderful! I bugged her for 2 weeks to give me the recipe...this is the result. :)"
Ingredients
3 quarts water

3 tablespoons olive oil

6 garlic cloves, thickly sliced

1/4 teaspoon red pepper flakes

2 tablespoons fresh Italian parsley, chopped

1/2 onion, chopped

1 1/2 cups frozen lima beans, thawed

3/4 cup prosciutto or 3/4 cup ham, chopped

1/4 cup dry white wine

1 1/2 cups chicken stock

1/3 cup whipping cream

3/4 teaspoon salt

1/4 teaspoon black pepper

3 cups swiss chard or 3 cups spinach, thinly sliced

1 lb penne or 1 lb spaghetti

1/4 cup parmigiano-reggiano cheese, freshly grated
Directions
Bring the water to a boil in a large pot.

Heat the olive oil in a large saute pan set on high heat until sizzling, about 2 minutes.

Add the garlic, red pepper flakes, parsley, onion, lima beans and prosciutto or ham.

Reduce the heat to medium and cook until the garlic begins to brown and the onion is soft, about 5-6 minutes.

Stir in the wine and boil until reduced by half, about 2 minutes.

Add the chicken stock, cream, salt and pepper and simmer for 10-15 minutes, until the sauce is slightly thickened.

Add the Swiss chard or spinach leaves to the sauce about 2 minutes before it's done, stirring well.

While the sauce is simmering, add the pasta to the boiling water and cook until just tender.

Drain the pasta well and return it to the pot.

Pour the sauce over the pasta and cook over medium heat, stirring constantly, for 3 minutes.

Remove the pan from the heat, stir in cheese and serve.