Anise/Licorice Cupcakes With Fluffy White Frosting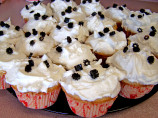 Photo by Rita~
Prep Time: 20 mins
Total Time: 40 mins
Serves: 18, Yield: 18 cupcakes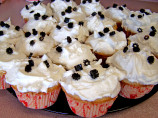 Photo by Rita~
About This Recipe
"My Dad requested t cupcakes for his Birthday and want then to be licorice flavored with some bits of licorice on top. I did use real licorice root steeped in warm milk but for ease I'm posting this recipe using anise oil-extract. If you want to make it that way steep 1/4 ounce of the root in the warmed 1 cup milk, blend in a blender and let steep for 15 minutes don't forget to strain it."
Ingredients
Cupcakes

2 cups cake flour

2 teaspoons baking powder

1/4 teaspoon salt

1/2 cup unsalted butter, Room temperature

1 1/2 cups sugar ( Try Recipe #53926 using the anise)

1 cup milk

3 egg whites, 1/2 cup

Garnish

licorice ( or Good and Plenty, soft, chewy drops, nonpareil jellies and soft panned licorice balls)

Fluffy White Frosting

2 egg whites, 1/3 cup

1 1/2 cups sugar

1/2 teaspoon cream of tartar

1/8 teaspoon salt

1/3 cup water

2 teaspoons light corn syrup

1 teaspoon vanilla extract

1/2 teaspoon anise extract
Directions
Cupcakes: Preheat oven to 350 degrees. Combine the flour, baking powder, and salt and sift on to wax paper, set aside.

Beat butter and sugar in a mixing bowl till smooth and well blended. Stir in extract and milk add to butter mixture alternating with the flour mixture.

In a clean blow beat egg whites till stiff but still moist. Fold in gently 1/3 of the white into the batter, continue to fold in the remainder of the whites.

Pour into cupcake tins lined with paper cupcake holders. Pour 3/4 of the way. Bake for 20 minutes.

Meanwhile prepare Fluffy White Frosting: Combine all ingredients except vanilla and anise in the top of a double boiler over boiling water. Beat with electric mixer for about 7 minutes, or until mixture will stand in stiff peaks. Beat in vanilla and anise extract.

Cool completely then frost with a white frosting and top with your choice of licorice candy.