Green Apple & Tomatillo Cornbread Dressing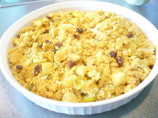 Photo by Montana Heart Song
Prep Time: 15 mins
Total Time: 45 mins
Servings: 4-6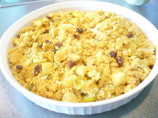 Photo by Montana Heart Song
About This Recipe
"This is a mix of fruit and vegetables in the dressing. It is made to cook alone. You may add chicken breasts or thick fish fillets on top. Then dress them with attached sauce. A make-ahead recipe."
Ingredients
Dressing

3 tomatillos, husked, cored stem end, diced

1 green granny smith apple, peeled, cored, diced

1/2 cup diced white onion

3 tablespoons margarine

1/4 cup lemon juice

Splenda sugar substitute

1 teaspoon salt or 1 teaspoon salt substitute

1/2 teaspoon ground sage

1/2 teaspoon white pepper

1/2 cup raisins or 1/2 cup craisins

3/4 cup vegetable broth or 3/4 cup chicken broth

2 1/2 cups cornbread stuffing cubes or 2 1/2 cups cornbread, crumbled & dry

Pam cooking spray

Sauce

1/4 cup red currant jelly

1/8 teaspoon cinnamon or 1/8 teaspoon allspice

1/4 teaspoon ground sage
Directions
In medium saucepan add dice tomatillos diced apple, diced onion, margarine, lemon juice, two 1 gram packets Splenda, salt, sage and pepper. Mix and cook on medium heat for about 6 or 7 minutes, stirring.

In large bowl, add dressing cubes or leftover crumbled cornbread and raisins or craisins.

Pour saucepan mixture over dressing and toss.

Add broth.

Toss until mixed.

Preheat oven 400°.

Spray Pam in a large round shallow sided baking dish or 8 X 8 baking dish. Fill dish with dressing.

Bake 30 minutes uncovered.

If topped with chicken breasts or fish fillets, place on top before cooking.

Last 15 minutes of cooking, heat jelly and spices and spoon over meat or fish. I like to sprinkle a little paprika and chili powder on the meat or fish when it starts to cook, it browns quickly. Spoon sauce as directed if using chicken and fish with the dressing. You may also use turkey cutlets.

Note: You may use sugar free jelly if desired.