Annacia's Spice Islands Hot Chocolate (Lighter)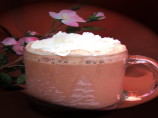 Photo by Annacia
Prep Time: 5 mins
Total Time: 8 mins
Servings: 4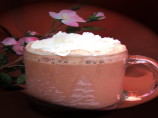 Photo by Annacia
About This Recipe
"Wanted to try Spice Islands Hot Chocolate but needed a way to make the calories and fat work out a bit more in my favor. Though keeping some of the chocolate makes this a wee bit of an indulgence, it certainly makes this a better option for low fat folks like me or diabetics. Have not tried the original, but I think this captures the it's flavors. Thank you Annacia for sharing your recipe and helping to create this one. :)"
Ingredients
2 ounces unsweetened chocolate

2 tablespoons cocoa

4 cups skim milk

1 tablespoon non-fat powdered milk (optional)

3/4 cup evaporated skim milk

1/2 teaspoon ground nutmeg

1/2 teaspoon ground cinnamon

1/4 teaspoon ground allspice

1 teaspoon vanilla extract

1/2 teaspoon almond extract

1/2 cup Splenda granular

1/2 cup Cool Whip Free, for garnish
Directions
Melt chocolate in 1 cup of skim milk, over low heat, stirring constantly.

Whisk in the nonfat powdered dry milk breaking up any bumps. (Not required but it gives the milk a little more body.).

Gradually add remaining milk, and the spices.

Cook over medium heat, stirring constantly, until completely heated. Add in the extracts and Splenda.

Serve topped with Cool Whip Free and sprinkled with additional nutmeg.