Mo Bettah French Onion Soup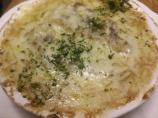 Photo by Cream Puff
Prep Time: 40 mins
Total Time: 2 hrs 10 mins
Servings: 4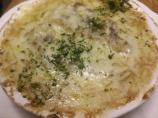 Photo by Cream Puff
About This Recipe
"A lot of recipes call for cans of stock, bullion cubes, and other barely palatable shortcuts. This recipe raises the bar without having to spend eighteen hours in the kitchen. The first step is a visit to rlschreiber.com where if you buy their beef and chicken concentrated bases, you will never buy another can of broth. (No, I don't own stock in the company.) If you can obtain sweet onions such as Vidalia, stick with dry white wine. The sweetness in soup like this should come from the carrot, the onions, and the wine - NOT added sugar. (Although there's no accounting for taste...)"
Ingredients
2 tablespoons butter

2 onions, quartered

1 carrot, quartered

3/4 cup white wine

4 cups beef broth ( R.L. Schreibers is the BEST)

2 garlic cloves, peeled

1/2 cup parsley

2 celery tops

1/2 teaspoon thyme

3 tablespoons butter

2 onions, thinly sliced

1 tablespoon flour

1 cup white wine

1 pinch nutmeg, ground

6 -8 ounces gruyere cheese, grated

4 slices French bread
Directions
Lightly brown quartered onions and carrot in butter.

Add white wine and boil until reduced.

Add beef broth, garlic, parsley, celery tops, and thyme. Bring to a boil then reduce heat and simmer gently for 30 minutes.

Strain broth and set aside, discarding solids.

Saute the thinly sliced onions in 3 tablespoons of butter until golden brown. Stir in the flour, then a cup of white wine and the reserved broth. Add some nutmeg and salt and pepper to taste.

Cover and simmer gently on low heat for an hour.

Cut the crust off of four chunks of French bread and fry them in a lightly buttered skillet until they are brown and crisp. Set aside. (It helps to cut them about the size of your bowl so that too much cheese doesn't work its way into the soup.).

When you are about ready to serve, stir two or three tablespoons of the cheese into the broth. Then ladle the broth into four oven-proof bowls. Place one chunk of fried bread into each bowl and top with the remaining cheese.

Place bowls on a foil-protected cookie sheet and place under a hot broiler for just a couple of minutes or three. While waiting for the cheese to melt, drink the rest of the white wine, reserving the empty bottle for smashing garlic cloves.